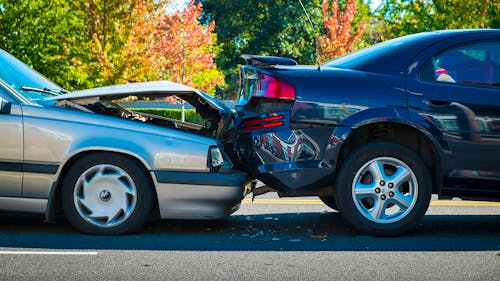 The Honda Accord is a reliable car with excellent technology and safety features. We found an average annual insurance premium of $1,043 for the Honda Accord among insurers we checked (for a 2018 Accord).
Who Has The Cheapest Insurance For The Honda Accord?
If you don't live in the mid-Atlantic region (Erie Insurance) or have a connection to the military (USAA), Progressive appears to be your best bet.
We sampled information from a number of sources and developed a range of what insurance should cost for your Honda Accord. That said, it's important to note that insurance data can take a while to make its way to the public, so the rates we're listing here are for a 2018 Accord. Rates should be quite similar to what you'll see to insure a 2021 model, but be aware that there may be some differences. Also, remember that insurance rates vary wildly from place to place and from driver to driver, so what you see here should only be used as a guide, not as a way to find your exact insurance rates.
Also note that our research focused on the cheapest insurance, which is different from factoring in customer service and other considerations.
DISCLAIMER: There are many factors that determine insurance rates for your Honda Accord
Fast Car Insurance Rate Quotes
Compare quotes from multiple providers to get a good deal.
Powered By:
Who Has The Best Cheap Insurance For My Honda Accord?
Cheapest Large Insurance Carrier: Progressive/USAA - Progressive/USAA. We'll call this one a tie. USAA and Progressive's rates are nearly identical ($1,078/$1,085), but USAA is only available to current and former members of the military and their families.

Best Overall: Erie - The insurance company's coverage area is large and growing, but if you don't live in one of the 12 states it covers, you're out of luck.

Best Insurance in All 50 States - If you can get it, Erie's a great choice. Outside of its coverage area, it's Progressive's world.
How Much Does Insurance For My Accord Cost?
We worked to get quotes from all major insurers, but some do not provide public rates without going through the quote process. The rates you see below represent the most recent and most available public rates for the Honda Accord.
| | |
| --- | --- |
| Erie* | $1010 |
| USAA | $1,078 |
| Progressive | $1,084 |
| Allied | $1,165 |
(*) Regional or specialty carrier that may not offer service in all areas or to all applicants.
Who Are The Nation's Best Insurers For The Honda Accord?
Progressive - Progressive makes more than entertaining television commercials. The insurance giant offers great coverage options for the Honda Accord, and its add-ons can make a real difference in what you pay and how you experience your insurance coverage. Progressive offers gap insurance, coverage for custom parts and upgrades done to your vehicle, pet injury protection, and a deductible savings bank.

Erie - Though it only covers 12 states, Erie insurance is a strong choice for auto insurance, and deserves a spot on our list. Drivers in Illinois, Indiana, Kentucky, Maryland, New York, North Carolina, Ohio, Pennsylvania, Tennessee, Virginia, West Virginia, Wisconsin, and the District of Columbia can enjoy Erie's excellent coverage and service. The company offers all sorts of benefits for its customers, including accident forgiveness, travel expense coverage, pet injury coverage, glass repair, locksmith service, and coverage of personal items.

USAA - If you're a current member of the military, a veteran, or a family member, USAA offers solid coverage at a great price. The company offers discounts for nearly everything under the sun, from safe driver discounts to multi-vehicle discounts, to good student discounts.

Allied - You may not be as familiar with Allied as some of the other names on the list, but the Des Moines, IA-based insurer offers excellent benefits with its insurance policies that can make it a real winner. There's a program to forgive minor violations like speeding tickets, accident forgiveness, and a unique vehicle replacement program.
How Can You Get Discounts on Insurance For Your Honda Accord?
Fortunately, there are a million discounts that you can apply to drop your insurance cost significantly. When we got quotes, we didn't select any of these, but they were all questions on the quote engine that would impact the overall insurance rate:
Pay in full - Not every insurer offers this, but if you can afford to pay in advance for either a six-month or annual premium, some companies will offer a small discount.

Safety Features - If your new Honda Accord comes with advanced safety features such as blind spot monitors, radar cruise control, or collision avoidance, you might be eligible for discounts through your insurer's safety programs. It always pays to bring it up to your agent to find out.

Clean Driving Record - This one's easy, right? Not so fast. You can only control yourself, so wrecks and other hazards may be out of your control. Insurers tend to increase wrecks for at-fault accidents, so be sure to stay on your toes and drive carefully.

Maintain Good Credit - Yes, insurers may take a look at your credit score to determine how much you should be paying for car insurance. Try your hardest to make payments on time and stay on top of your financial life to get the best insurance rates.
See our top picks and recommendations for the Best Tires for your Honda Accord.
See our recommendations for the Best Extended Warranty for your Honda Accord
Fast Car Insurance Rate Quotes
Compare quotes from multiple providers to get a good deal.
Powered By:
FAQ
Is a Honda Accord cheaper to insure than a Toyota Camry?

No. All of the vehicles in the Accord's class end up costing around the same amount to insure every year. The big thing that impacts insurance cost is the way you drive.

Why are my insurance rates so high?

The short answer is that you probably live in what your insurance company considers to be a high-risk area, like a large city. Otherwise, insurers consider a long list of factors to determine your rates, from your driving record to your credit history, so it's important that you understand what you're being charged for and how you might be able to fix it.

How can I get super cheap insurance for my Honda Accord?

You're not going to get full coverage insurance for a much better price than what GEICO's offering. The other way to get super cheap insurance is to opt for minimum coverage, which will vary depending on your state. This can save you a ton of money, but may lead to some real financial pain if you get in a wreck. If you opt for the bare minimum, make sure you're able to deal with repairing or replacing your Accord out of pocket.

Are older Honda Accords cheaper to insure?

Yes and no, rates may be cheaper for an older Accord because they're typically cheaper to buy. On the flip side, older models may be missing many of the advanced features that insurers look for when doling out discounts and rate reductions.
Editor's note and disclaimer: Car Talk is supported by our fans, readers and listeners. When you click on some of the links on our website, we may receive referral compensation. However, you should know that the recommendations we make are based on our independent editorial review and analyses.